Hong Kong Lepidopterists' Society Events & Activities
Brief report on the Field Trip to Nan Ling National Reserve,
Guangdong, China (March 29th to April 2nd 1999)
by Gable Wang
photos by James Young
March, 29
James Young, Gable Wang, & Chen Xi Chang arrived Guangdong Nan Ling National Reserve at Ru Yang on a heavy rainy afternoon with temperature between 5° and 12°C. We were very disappointed with the cold wet climate. Only short trips had been attempted within the nearby village - no significant finding.
March, 30
Weather mainly cloudy in the morning, sunny in the afternoon, temperature between 10° and 18°C. Short trips were made to the surrounding green areas. Pieris canidia, Pieris rapae, Argyreus hyperbius, Vanessa cardui, Junonia almana were spotted.
March, 31
Weather sunny day, temperature between about 15° and 20°C. J. Young, G. Wang & Chen X C decided to go hiking in the Reserve and followed the path down along the 'Group of Waterfalls'. Pathysa agetes, Pazala timur, Pazala mandarinus, Graphum cloanthus, Parantic melaneus were seen. Four Drapa hanria were found and which was the first record in the whole of China. While both Orthomiella pontis and O. rantaizana were also seen flying here and there to begin their virgin flight, which would last for a week or two.
| | |
| --- | --- |
| | |
| Drapa hanria | Pathysa agetes |
| | |
| --- | --- |
| | |
| Orthomiella pontis | Orthomiella rantaizana |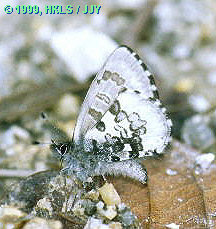 Pazala timur

April, 1
Weather cloudy with sunny periods, temperature 20° to 27°C. Other than Pathysa agetes, Pazala timur, Pazala mandarina, Graphum cloanthus, other species like Chilasa agestor, Chilasa epycides, Byasa impediens, Graphium doson, Graphium sarpedon, Papilo bianor, Papilio protenor, Papilio nephelus, Libythea celtis, Kallima inachus, Polyura narcaea, Eurema laeta and were also spotted.
| | |
| --- | --- |
| | |
| Papilo bianor | Orthomiella pontis and O. rantaizana |
April 2
Weather, overcast, temperature, 17° to 22°C. We headed back to Guangzhou and on our way back to Hong Kong. This concluded our first trip to Nan Ling National Nature Reserve in 1999.
| | |
| --- | --- |
| | |
| Graphum cloanthus | Pazala timur |
---