Hong Kong Lepidopterists' Society Events & Activities

WONG CHUK YEUNG, SAI KUNG - field trip 25th July 1999
by James Young
Four of us, Yvonne, her two children and myself were motivated to take on this trip regardless of the mercury rising to 33°C
We met at 8:00am at the Shatin railway station before we dashed off to Sai Kung. On arriving at the roundabout at Tai Mong Tsai Road, we dropped off to check the Quercus edithae, a huge tree just around the corner to see if there was any infestation of Arhopala birmana, family Lycaenidae. All the young leaves were eaten away and there was no sign of any of their immature stages. We then got on our 4WD and headed to Po Lo Che.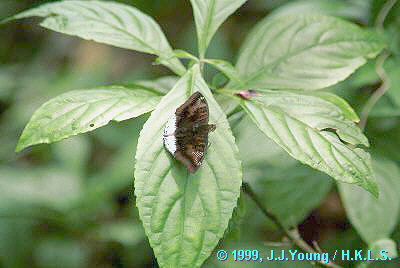 Euthalia phemius
Along the Po Lo Che Road, a male Troides helena feeding on Lantana and a Moduza procris on rotten Lychee greeted us when we drove passed by. Yvonne and the kids were astonished by the marvellous sight especially the Hong Kong bird wing as they were the first time to see the birdwing in such a close proximity. At some stage we stopped at the familiar site which was the stronghold for Lamproptera curius and Moduza procris. We saw a few of them. Just three weeks ago, hundreds of Lamproptera curius were seen flying in the vicinity. Suddenly, an unknown Euthalia settled about three feet from Yvonne and myself. It was a male Euthalia brownish in colour with a green tint. I immediately took my camera and tried to aim at the beautiful insect. I was too slow for the butterfly, which was too quick and flew off in a distance. It was Euthalia monina.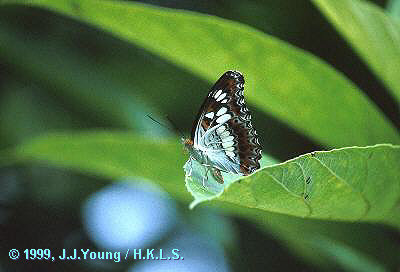 Moduza procris
| | |
| --- | --- |
| | |
| Hyarotis adrastus | Lyssa zampa |

We left the site at Po Lo Che with great disappointment and headed off the track by foot to Wong Chuek Yeung. We were lucky as the track was generally in the shade and there was occasional breeze to keep us cool. There were at least two hundreds of Lyssa zampa, Uraniidae flying along the path and we had not ever seen such a huge numbers before. Just before we arrived at Wong Chuk Yeung village, there was quite a large colony of Danainae at the end of the path. A female Euploea mulciber was also sighted. After a few mouthful of water, we wandered further into the village. We headed back to my car around midday and returned home.
| | |
| --- | --- |
| | |
| Euploea mulciber | Discophora sondaica |
---