Acraea issoria (Hübner, 1819) - ­R³Â¬Ã½º - Yellow Coster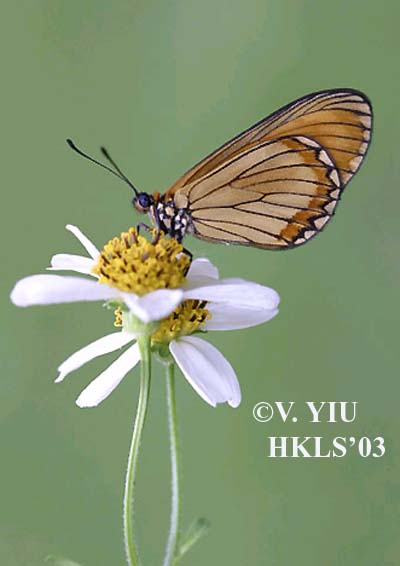 Life history of Acraea issoria- Family Nymphalidae Subfamily Heliconiinae by photographs
| | | |
| --- | --- | --- |
| | | |
| Caterpilla / Larva | Caterpilla / Larva | Caterpilla / Larva |
| | | |
| | | |
| Chrysalis / Pupa | Chrysalis / Pupa | Adult (Male) |
| | | |
| | | |
| Adult (Female) | | |
| | | |
**Larva and pupa found in Chuen Lung feeding on Boehmeria nivea (L.) Gaud.
On 17th August, 2002, staff of AFCD found a population of Acraea issoria, both larvae and adults in Wu Kau Tang, Tai Po. The larvae were feeding on Gonostegia hirta (Hassk,) Miq. , family Urticaceae. (see Hong Kong Biodiversity no.3) This was the first time this butterfly was recorded.
The butterfly is common in Guangdong, north of the border. It feeds on a variety of food plants notably Boehmeria novea (L.) Gaudich. of the Urticaceae family.
Recently, the butterfly has been seen in many places namely in Hok Tak and Chuen Lung. A recent trip to Chuen Lung on 12th April 2003 by Yiu Vor and P.C. Lee had revealed a large population already established in Chuen Lung. "It was cloudy but not raining. There were more than one hundred pupae and caterpillars on the Boehmeria along the bank of the stream behind the tea house. Strangely enough, not a single adult was seen. Only a few P. canidia were seen. We were not satisfied and went across the bridge on the other side. After a long search, we did see one adult flying slowly down the underside of the bridge. Then we went down and found more then ten adults, some were worn but most of them were fresh, so fresh that they appeared like freshly emerged and not dried, though the relative humidity of 97% might take toll. We didn't spot them in the first place because they didn't move and blend reasonably well" remarked by Lee.
©2004 Hong Kong Lepidopterists' Society Limited