Hong Kong Lepidopterists' Society

Hesperiidae (Skipper Butterflies)
newly recorded from Hong Kong
Caltoris cahira (Moore, 1877)
Dark Swift 放 踵 珂 弄 蝶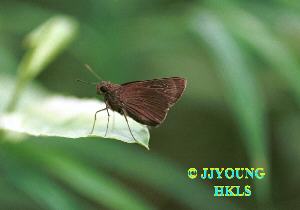 Adult butterfly in motion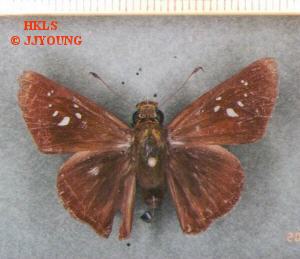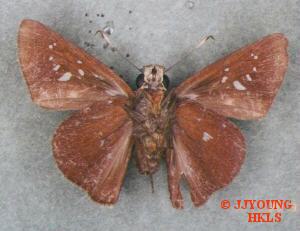 Male (upper and underside)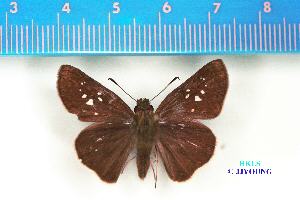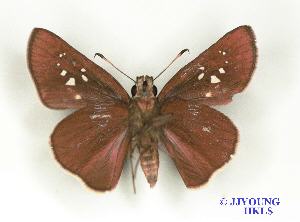 Female (upper and underside)
Several unfamiliar Hesperid larvae collected at Wong Lung Hang, Lantau Island in October, 2000 were reared. The emerged adult butterfly looks very similar to the existing recorded Caltoris bromus but they differ both in the mythology of their larval stages and host plant consumption. Expert advice from Dr. Hideyuki CHIBA was called for its identification. It was kindly identified and confirmed to be Caltoris bromus (Leech), a new record for Hong Kong. The recorded Caltoris species thought to be bromus is in fact Caltoris cahira (Moore).
N.B. Please see Caltoris bromus in separate section for reference and the mythological difference highlighted below.
LOCATION - throughout Hong Kong
FOOD PLANT - Bambuse spp.
For further reading on the genitalia of Caltoris bromus & C. cahira, please see :-
Corbet A. S. & Pendlebury H.M., 1992, The Butterflies Of The Malay Peninsula, 4th Edition revised by Lt. Col. J. N. Eliot, Malayan Nature Society, K. L. Malaysia, pp. 592-593.
Maruyama K. & Otsuka K.,1991, Butterflies Of Borneo, Vol.2, No.2 Hesperiidae, Tobishima Corporation, Tokyo, pl. 39.
Immature stages of Caltoris cahira
| | |
| --- | --- |
| 2nd instar larva | |
| 3rd instar larva | |
| 4th instar larva | |
| | | |
| --- | --- | --- |
| 5th/final instar larva | | |
| | Male | Male - Head capsule |
| 5th/final instar larva | | |
| | Female | Female - Head capsule |
| Pupa | | |
| | Male | Female |
| Intrinsic part of the male genitalia (left), valva (right) | | |
Mythological difference of Caltoris bromus and Caltoris cahira



Caltoris bromus (Leech)
Caltoris cahira (Moore)

Adult male

4th instar larva

5th instar larva

Genitalia - left valva

Host plant

Phragmites Karka (Retz) Trim. Ex. Steud (Gramineae)

Bambusa spp. (Gramineae)
(prepared by J. J. Young)
---
---