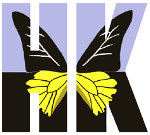 Hong Kong Lepidopterists' Society Events & Activities

A brief report on a trip to the Kakamega Forest Reserve, Kenya
5th to 12th February 2007
by James J. Young
To the avid camera wielding butterfly watcher who travels far and wide, the excitement of every trip is finding exotic butterflies in the wild. However, exotic butterflies normally found in abundance in places like Sulawesi, Sabah and Mindanao in Asia, have now become rare. Likewise, reports from friends in Hong Kong say that, nowadays, a casual stroll in the countryside yields only a handful of even common butterflies.
For those who are so passionately addicted to butterflies, there is no choice left but to wander far away from home to be able to find them in great numbers and diversity. Far reached places or larger national parks provide a better chance to see and enjoy what may be the remnants of the exotic butterflies of the world.
A butterfly watching trip to the Kakamega Forest in Kenya, East Africa was planned. It was only Dr. Lee and I who signed up for the trip. Due to unforeseen reasons, Dr. Lee could not get on the plane in the last minute. I surely missed his company. As a consolation, I am submitting to him a brief account of my trip.
After a good night sleep on the airplane, I arrived in Nairobi, the capital of Kenya, in the early morning, in time to catch my onward domestic flight to Kisumu, the 3rd largest town in Kenya, on the shore of Lake Victoria. The hired driver was already there to meet and transfer me off to my hotel at Kakamega town.
After checking in,

I immediately went to the nearby Webuye Waterfall to search for butterflies. There were many butterflies along the foot path to the Fall. However, it started to rain leaving me with no choice but to return to my hotel to rest and prepare for the coming exciting week

.

Webuye Waterfall
The Kakamega Forest is a tropical rain forest in western Kenya, located close to Lake Victoria. There are over 400 species of butterflies recorded within the boundary of the Forest which is about 45% of all recorded butterflies in Kenya. The Forest encompasses about 240 sq. kms, the northern portion of which has been declared a National Reserve.
There are many trails within the Forest and many are very wide forestry roads, which appear to me to be logging roads in the past. The trails are surrounded with good vegetation and several open areas.
| | |
| --- | --- |
| | |
| Yala Walking Trail | A corner at the Yala River |
| | |
| A predator on butterflies at Kakamega | Open area at Isiukhu Falls |
These trails form the pathways for butterflies and many were seen on patrol, especially the Charaxes butterfly. The place is quite flat so it was easy to walk. The weather was not hot at all and might well be around 25C to 26C during the day. I had seen villagers carrying twigs or even small branches on their heads to be used for firewood. There were very few mosquitoes and no dangerous animals in the vicinity. Only baboons, monkeys and snakes are the sole surveyors in this Forest.
| | |
| --- | --- |
| | |
| Karasinga monkey | Black and White Colobus |
February is supposed to be a dry month but surprisingly, it rained every afternoon throughout the duration of my stay. The Forest is about 20 kms. from my hotel and it took me about 45 minutes to 1½ hours to go to my destinations due to the poor road condition surrounding the Forest.
I wandered to the various corners of the Forest each day of my stay. Just for the first 2 days, I had already seen over 120 species. In total, I had taken over 8,000 pictures with my digital cameras. For the final count, I had taken photographs of over 185 species with one record of a Lycaenid, Liptena fulvicans, not recorded in Larsen's book – The Butterflies of Kenya. I was hoping to see many Lycaenids but they were disappointingly very few. Had I used bait traps like shrimp paste, I would have recorded a lot more species like the Charaxes. August is supposed to be the best time to see butterflies in this Forest. I surmise that with a good turn out on what is supposed to be a low season, a trip on a peak season would surely be a butterfly watchers delight.
| | |
| --- | --- |
| | |
| Drinking at puddle, Yala River | Charaxes feeding at dung, Isiukhu Falls |
The no. of species with photographs taken from various trails are as follows:
| | | | |
| --- | --- | --- | --- |
| Date | Location | No. of species | |
| | | | |
| 5-2-07 | Webuye Waterfall | 11 | |
| 6-2-07 | Isecheno Forest Station | 62 | |
| 7-2-07 | around Buyangu Hill | 41 | |
| 7-2-07 | around Isiukhu Falls | 24 | |
| 7-2-07 | around KWS office | 23 | |
| 8-2-07 | Yala River Walk | 64 | |
| 9-2-07 | Yala River Walk | 56 | |
| 10-2-07 | Yala River Walk | 47 | |
| 11-2-07 | Isecheno Forest Office | 42 | |
| 12-2-07 | Around Buyangu Hill | 24 | |
| 12-2-07 | Around Isiukhu Falls | 45 | |
Overall, I saw over 200 species during my short stay at the Forest. I must conclude that the Forest is definitely excellent in terms of number and diversity. I highly recommend it for a butterfly watching trip. Kakamega is surely a butterfly watcher's paradise.
The following is a list of species with photographs taken from the various trails of the Kakamega Forest from 5th to 12th of February 2007. Their photographs will be uploaded from time to time. Do watch out.
---
---
This page was created on 21st March 2007 and updated on 8th April 2007
Thank you for visiting
© 2007, Hong Kong Lepidopterists' Society Limited
---